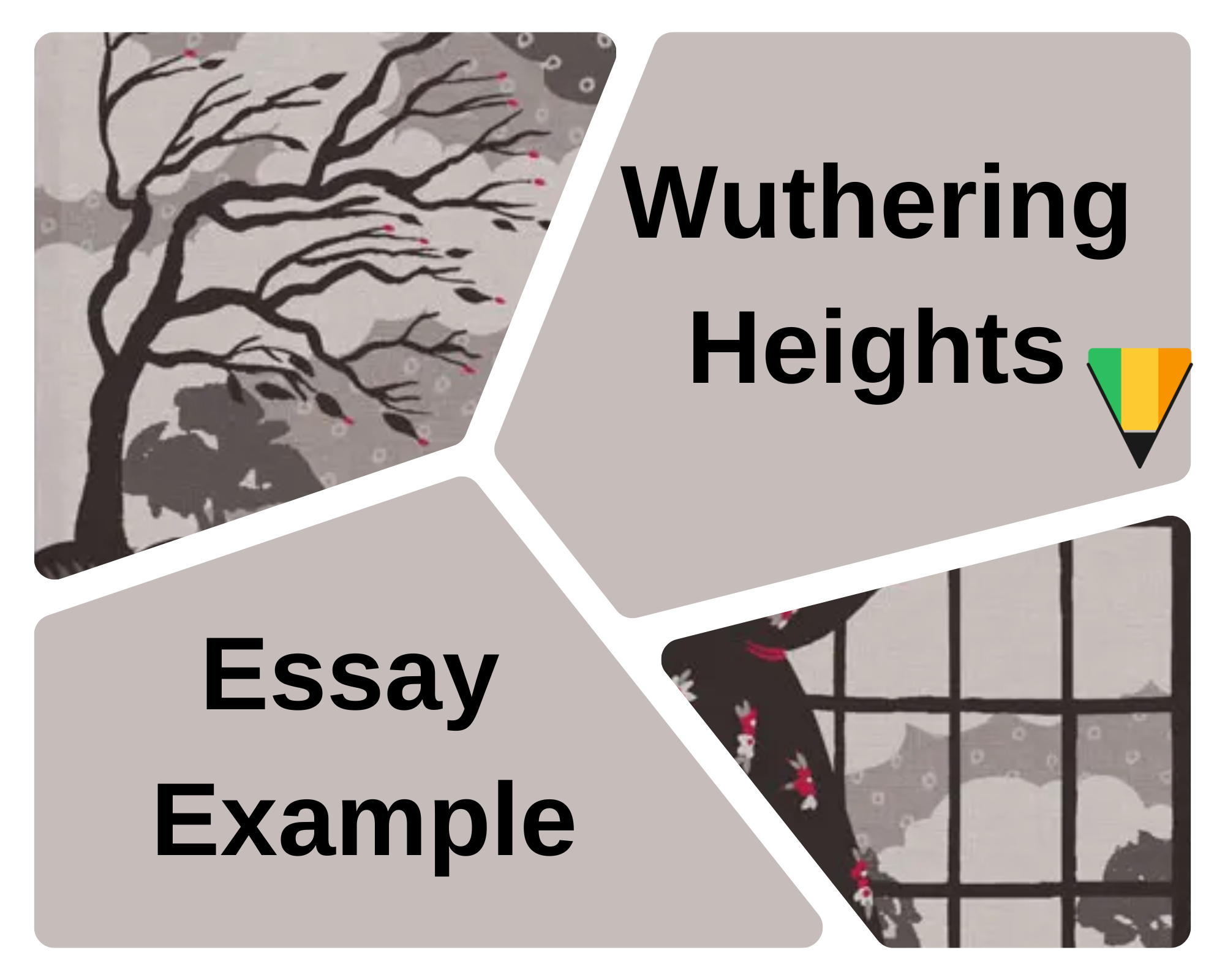 The "Wuthering Heights" essay is presented only for viewing. The plot of this unusual novel at first glance does not represent anything complicated. There are two estates, two opposites: Wuthering Heights and Thrushcross Grange. The first personifies anxiety, rough and unconscious feelings, the second is a harmonious existence, a home of cosiness. In the center of the narrative, there is a truly romantic figure, a character without past – Heathcliff.
He seems to be, from birth, to not belong to any of the houses, but in spirit, belongs, of course, to the estate of Wuthering Heights. And on the fatal crossing and intertwining of these two worlds, the entire plot of the novel is built. Here are two main themes of the novel, the two main words around which the narrative of "Wuthering Heights" unfolds – of inexplicable love and destiny. No doubt, this novel is a mystery that you can think about endlessly. It is a novel that overturns all the usual ideas about good and evil, love and hate. Have a look at our "Wuthering Heights" essay that talks about the role of pairs that can be found in the book.
Wuthering Heights Essay
Wuthering Heights structures itself around matched, contrasting pairs of themes and of characters. What are some of these pairs, and what role do they play in the book?

In Wuthering Heights Emily Brontë depicts how the choice of one woman determines the fates of the surrounding people. This is a story about a devastating passion that has become a burden and a curse both for the couple and for the entire related characters. In this novel, Emily Bronte depicts contrasting characters and their doomed fates because of this contrast.

Undoubtedly, two pairs of characters are significant to consider for the goal of this paper. Heathcliff and Catherine are both passionate and delighted by each other. Catherine choice is a turning point for the development of the plot. Many fates have been determined by this choice. Moreover, other characters are depicted only in relation to this choice including another pair significant for this analysis who are Edgar and Elizabeth Linton. The fates of these people play a significant role in this book because they are all victims of one human feeling which is the most pleasant, sweet, and strong but at the same time vicious, devastating, and fatal. Passion drives the actions of Heathcliff and Catherine. Bronte shows how passion together with weak will and short-sightedness becomes a destroying feeling. The plot is developed around the feeling of a strong passion and the consequences from its pure form. This main theme promotes revenge that becomes the second theme in the book and deserves a careful investigation, as well. Although the characters are different, they constitute the only whole in the plot and develop together around the choice of Catherine and the theme of passion and revenge.

Heathcliff and Catherine's passion starts from friendship. Nothing makes people closer than intimacy. Heathcliff and Catherine were close enough to create a favourable surface for much more stronger feeling. However, the strength of this feeling can be questioned because, despite the fact that the energy from passion does have a certain strong quality, on a broad scale it makes people weak and vulnerable.

It makes the victims of themselves. This feeling deprived the characters in Emily Bronte all the sanity and made them dependent slaves of themselves. Here it is worth to note how Heathcliff's and Catherine's passion develops separately. Although these characters might seem much alike by their passionate and unrestrained tempo, there are many differences in them. Heathcliff is decisive and fearless. He is not afraid of responsibility. It would be hard to find much generosity in his actions through the book. However, it is an undeniable fact that his feeling to Catherine was real, conscious, and clear. Through the entire novel, Heathcliff's character has been shown holistic, strong, and faithful. He has betrayed neither himself nor Catherine. In contrast, Catherine character is unstable, unpredictable, and changeable. First of all the manifestation of unrealized identity occurs in her choice which becomes a turning point for the plot. She acknowledges that her love to Heathcliff is eternal: "My great miseries in this world have been Heathcliff's miseries, and I watched and felt each from the beginning: my great thought in living is himself. If all else perished, and he remained, I should still continue to be; and if all else remained, and he were annihilated, the universe would turn to a mighty stranger: I should not seem a part of it… My love for Linton is like the foliage in the woods: time will change it, I'm well aware, as winter changes the trees" (Bronte 182). With this evidence, Catherine's choice becomes of particular interest, as well as, her character that promoted this choice.

First of all, it is unclear what motives drive the young woman to consciously refuse her chance for happiness and take the opposite choice to what she had really wanted. The most obvious motive for this decision is Catherine's ignorance about herself, her unrealized identity, unjustified fears, and lack of responsibility.

Nevertheless, the nonsense of the decision is undeniable. However, still it has a chance to be justified. Catherine claims that her love for Linton is like the foliage in the woods: time will change it, I'm well aware, as winter changes the trees" (Bronte 182). By these words, she emphasizes that time changes feelings. However, she wanted her passion to be eternal. If she had chosen marriage with Heathcliff, time would have made this feeling miserable, down-to-Earth, primitive in small everyday affairs. She wanted it to burn, excite, and inspire. Heathcliff blamed her for being short-sighted and ignorant to marry miserable Edgar Linton. However, none has ventured to suspect that Catherine with this decision has turned to be the most intelligent and far-sighted. Heathcliff had not suspected that this marriage was for the sake of their feeling.

Catherine action was destructive in its essence. She was egoistic, undoubtedly. Maintaining the fire in her heart and desire for the sweet poison of passion, she caused many sufferings for people around her. One of these people was Elisabeth Linton – a girl with less complicated character and much more generous intentions.

Her love to Heathcliff was an ordinary dependence of victim on her master. She was not interesting. She agreed to her position of the victim and took pleasure from it. Heathcliff was cruel and violent with her. He treated her as a beast treats his victim and have never hidden his true feelings and intention in relation to Elizabeth. Speaking about the lack of self-understanding and self-respect, it is exactly Elizabeth who turned to be an entirely broken individual. She was not the mistress of her feelings. With her love to Heathcliff, she descended to the state of the entire misery losing herself and her hope for any kind of the future. She has become a slave to her own weakness, her own self-disrespect, and her addiction to passion. Edgar Linton was as weak as his sister. He had not managed to calm his wives passion neither had he managed to become an equal partner for her. Since the very beginning, she was the ruler of their relationships. She played with him and used him for their goal. She needed a respectable and pleasant husband to create a reliable surface for being comfortable in her passion to Heathcliff. Edgar played her games. He had not managed to confront with Heathcliff and take away what belongs to him- his wife. Catherine was mentally much stronger and much more intelligent to veil her games for the sake of her intentions.

Bronte depicted a range of characters that confront each other and develop the plot of the novel. Heathcliff and Catherine create a passion having an eternal quality. Being both frantic characters, they burn the fire that devastated themselves and the surface around. In their complicated relationships, Catherine had turned out to be the main plot-writer. Being cunning and sly by nature, she pushes the universe go around her. Motives of her choice are hard to distinguish clearly. Obviously, they aimed at maintaining the feeling behind the objective reality and simplicity of everyday activities. By claiming that they are eternal, she confirmed the non-trivial character of them. And they have been non-trivial, incomprehensible, and wild. However, at the same time, interesting, real, and alive.

Works Cited

Brontë, Emily.Wuthering Heights. Mineola, N.Y: Dover Publications, 1996. Print.
Thormählen, Marianne. "The Lunatic and the Devil's Disciple: The 'Lovers' in Wuthering Heights." The Review of English Studies, vol. 48, no. 190, 1997, pp. 183–197. JSTOR, JSTOR, www.jstor.org/stable/518669.
What to Include in Wuthering Heights Essays
"How to write my essay on Wuthering Heights?" In addition to the example above, the review excerpts below will also help you.
"I will say right away that the story is not about love, in my understanding. It has an unhealthy obsession, but it is not love. Many speak very badly about characters; they say that everyone there is negative, stupid, and no one deserves pity. This is what I don't agree with. We were shown the vices of people and their experiences. I felt sorry for many. And do not forget that the story is told by a woman who watched everything from the side. She cannot accurately convey the thoughts and feelings of the characters."
"How to do my essay on Wuthering Heights expressing a neutral opinion?" You can start with the following words:
"Emily Brontë's Wuthering Heights is very enticing with the fact that there are no positive or negative characters in it. All of them are hostages of certain life situations. They are the human race, with all their flaws and vices."
If you have problems with sharing your thoughts in an essay or don't know how to do it right, you can get help from our essay writer online. They will show you how to present your opinion about the book correctly.
Don't Wait for a Muse – Ask for Help
If you have problems with writing any type of paper, you can get help on WriteMyEssayOnline.com. For example, you can leave a "write my dissertation" request on our site. Our writers are able to help customers professionally so that they want to return to us to order more papers. We know that you can solve any of your writing problems with our high-quality assistance!