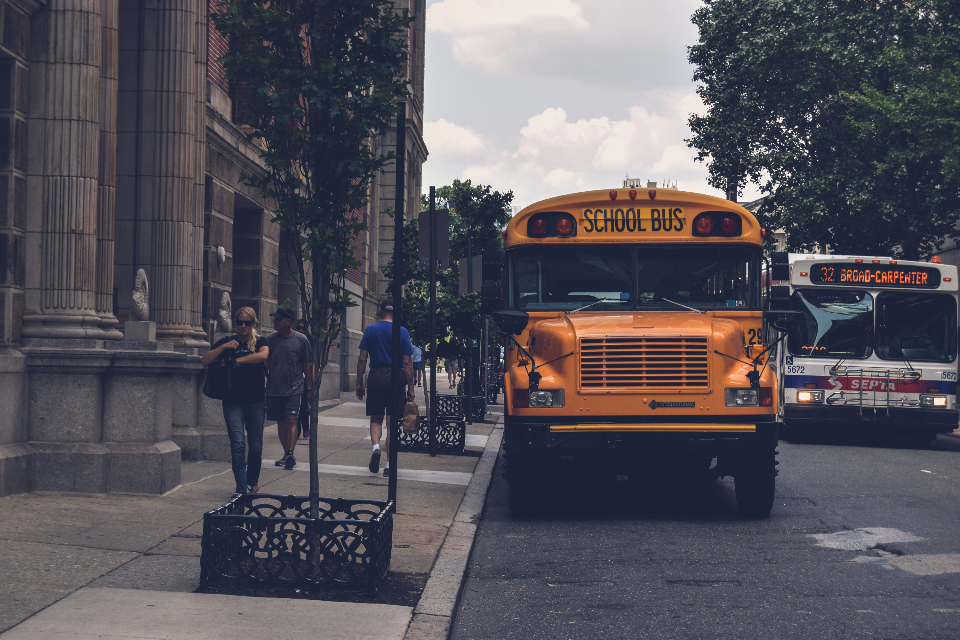 In modern schools there is a clear tendency toward the ever-growing volume of homework. Starting with primary classes, students spend an hour every day, and even more, on homework. Unfortunately or fortunately, in this situation, Americans are not alone. Recently in Spain, parents announced a four-week strike – they massively wrote notes for teachers explaining the lack of exercises performed. For information, in Spain, students spend an average of seven hours per week on doing homework. So, is it possible to find schools without homework nowadays?
One of the participants explains her boycott by the fact that her sons are occupied with homework for almost all of their free time, and therefore they do not have time to communicate with friends and family, to engage in an interesting hobby, or to relax. In addition, the problem is also in the exercises themselves: they are monotonous and tedious, for example, rewriting large texts in a notebook from a textbook.
Due to the fact that teachers give too much homework, family leisure has to be adjusted for it, such as canceling picnics and walks and not going to the movies or cafes, as children need to do homework. Spanish mothers also believe that exercises for self-fulfillment should be more fun and creative – creating different crafts, a photo report on plants or insects learned in the class, etc.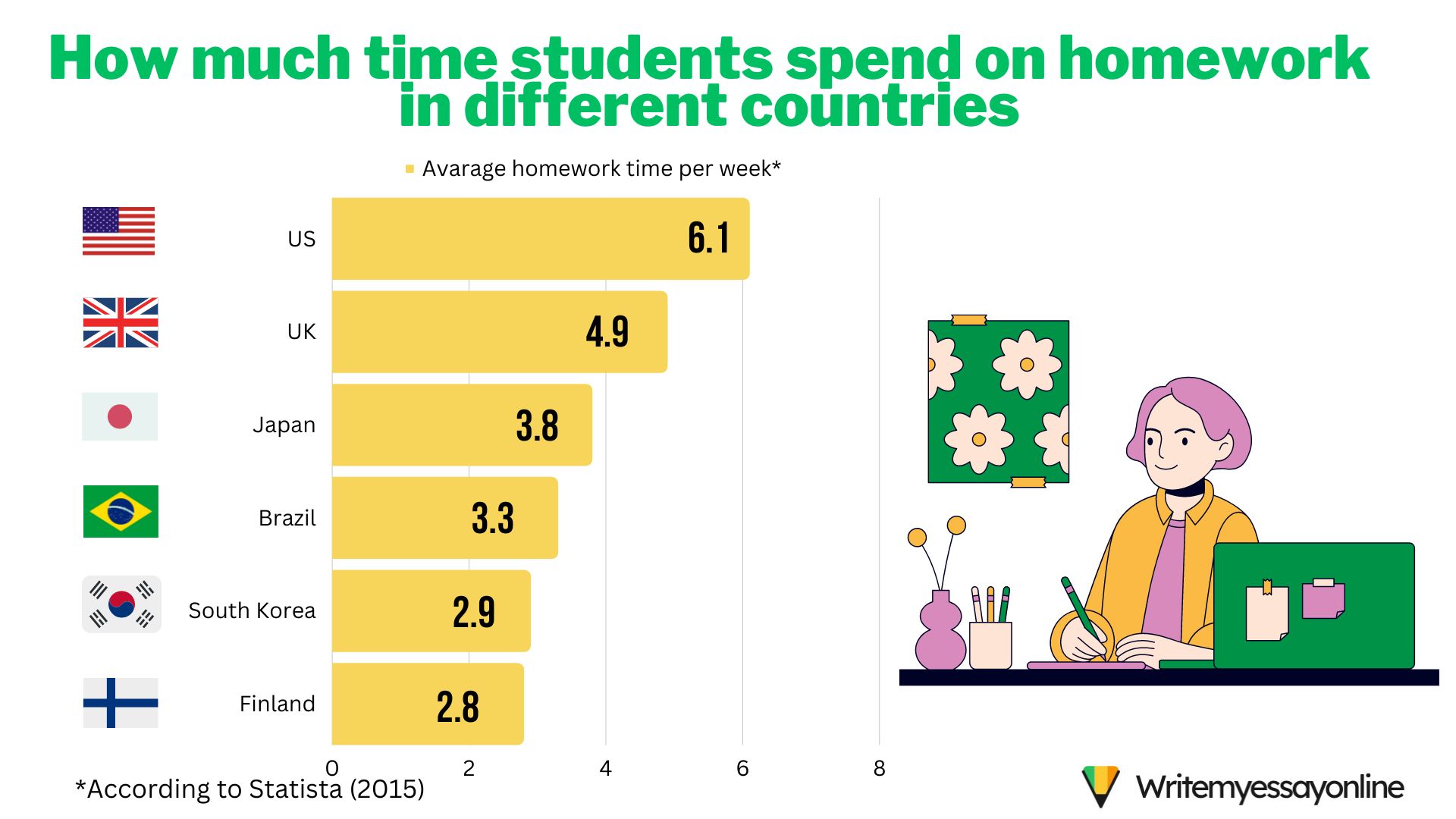 Moreover, a hard homework workload negatively influences students' physical and mental health. Many even feel burnout from various assignments and use "write essay online" services to have time for themselves.
As the demand for alternative learning approaches grows, some schools adopt policies to minimize or totally eliminate traditional homework. Alternative schools have developed unique techniques in the educational system that include no grades and homework.
Who Supports No Homework System
British moms and dads support this view. Anne, the mother of two sons, believes that school assignments kill their love of reading. Teachers are required to read the literature daily from the program, and the kids do not like it, although they spend hours with their favorite books. In addition, children often want to move, play, and walk, but instead adults force them to go home and prepare for lessons. Moreover, many parents believe that it is not necessary to do homework every day, and in return, it is much better to give the student a rest and study the world freely.
In this context, the experience of Dana from California, USA, is interesting. Her children study at one of the schools without homework in the lower grades. Studying is built interactively – through interesting projects or activities, and with complete absence of cramming. Because of this, sincere interest and curiosity in the new material is formed in children, and they really want to gain knowledge. Adults, of course, should at the same time spend a lot of time with them, talk about everything, and support their hobbies.
Unfortunately, Romanian children are in a less enviable position. Craig, whose sons are studying at a municipal school, is dissatisfied with the fact that the oldest son finishes his assignments only by midnight. Classes are overcrowded, held in two shifts, and the program is much more complicated than in developed countries. As a rule, the schoolchild spends more than an hour to repeat the notes of the lesson, and only afterward begins to do homework.
Six-year-old son Zeynab from London also devotes an enormous amount of time to his studies. In school, he is given voluminous and complex projects, for example, creating a school newspaper on the theme of the First World War. Because of excessive load, children are constantly in a state of stress, and they are nervous and afraid of failing to pass exams. Such pressure on kids discourages them from the desire to learn, leaving only the fear of being worse than others and getting a low grade.
Also, students and their parents try to lower the stress from homework by hiring an essay writer online so that children can care about themselves without losing grades.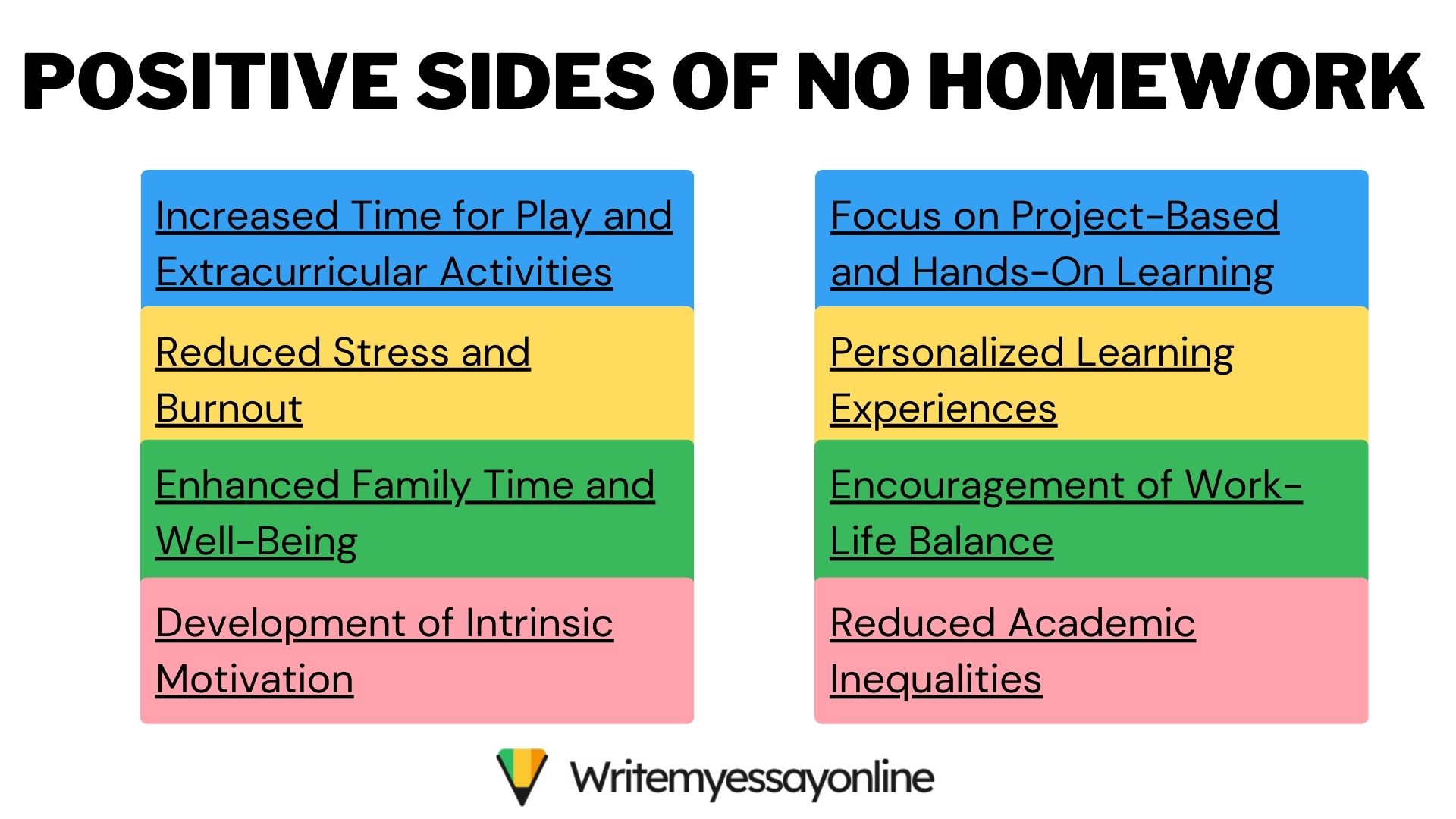 The Opposite Position
However, there are also parents who hold the opposite position. Alex of Swansea in the UK claims that his twelve-year-old son is not asked to do enough homework, and it is poorly organized – there is no clearly defined goal and control by the teacher. As a result, the child perceives homework as unnecessary and spends all his time playing in online games or watching cartoons.
Edward moved from London to Denmark, and is surprised by the contrast in approaches to education between the two countries. Scandinavian schoolchildren are not assigned homework in junior classes, and instead they spend their free time on games, walks, and entertainment, while the overall level of education in countries remains high.
And on the contrary, Edward's daughter, living in London, gets homework that can not be done on her own, as it is an unsuitable volume and complexity for her age. For this reason, moms and dads constantly have to prepare for lessons with the child. Adults are nervous because their children may lag behind in studies, so they constantly monitor their academic performance. Edward believes that, on the one hand, you do not ask for no more homework at all, but it should be much less, and it should be comparable to skills and abilities at the appropriate age.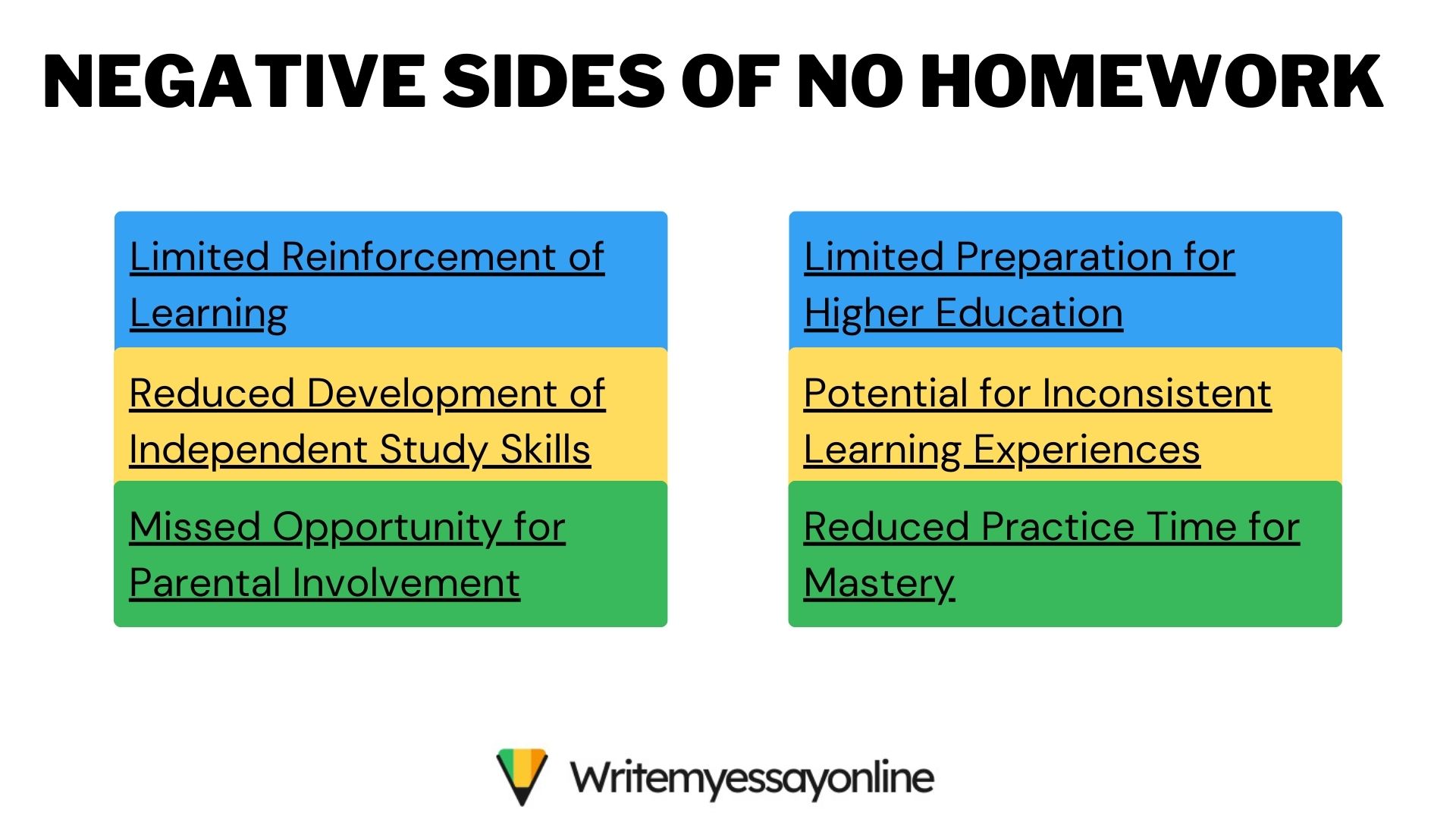 Problems With Homework among Students
Thus, it can be seen that in many countries students face problems with homework – too many or too few, too complex, or very boring. A single solution is not here and can not be. Each student is unique, and everyone needs one or another approach. One needs clear control and interest from the mom and dad, and the other, on the contrary, requires independence during homework. In any case, adults need to limit pressure on children and try first of all to interest them in their studies.
It is not difficult to do this. In every child there is a desire to learn new things, and this is what parents need to use. Parents should communicate with them more, discuss new topics that have been covered in school, and help with lessons if necessary. If bad grades start to appear, it is necessary to solve this issue as soon as possible, otherwise they will get used to low grades and stop trying to improve.
There may be several reasons. First, the teacher's lack of professionalism can lead to the fact that schoolchildren do not learn the material and therefore can not cope with the load. Secondly, now there are many educational programs, and they often do not correspond to the capabilities of children – for example, they try to teach a creative person on a system with in-depth mathematics or, conversely, a future technician attends the humanitarian class. Third, the quality of education is influenced by relationships with classmates: if a child is bullied, then because of stress, he or she may simply be embarrassed to ask the teacher about what is unclear and ultimately does not learn the topic. Finally, if the case may be of a personal dislike between the teacher and student, then this predictably leads to a decline in academic performance. Parents can understand the reason for the problem by trying to do homework with the child and talking to him or her, but at the same time, in no case should they try to blame their child for problems and compare with more successful classmates.
What Researchers Think about Homework
While homework remains a pretty debatable topic among parents and educators, let's look at the research results in this field. The Programme for International Student Assessment (PISA) study has shown that elementary students don't offer a significant difference in academic achievement with the rise in homework load. Researchers point out that the main factors for elementary students' development are high-quality teaching methods, active classroom learning, and a supportive learning environment at home. Other research from Duke University has shown the same results. The study has compared the benefits of homework between elementary and secondary school students and showed that elementary students have minimal benefits from homework. But in the context of senior classes, students who have more assignments at home show better performance and test scores.
Also, we should consider that such research has certain limitations and may vary from one school to another. The number of students in class, educational goals, and structure of classroom activities dictate significant factors that influence the need for homework. If talking about primary school, education should be aimed at fostering improved classroom activities, sports, and independent study habits among students. Homework tasks for senior classes should be well-developed and versatile to keep students engaged in the learning process and improve their skills from various sides. The homework load should be balanced in order to avoid physical and psychological student fatigue.
If you want to say, "write my essay" you can leave it to WriteMyEssayOnline.com. The main thing is that our writers are professionals who can deal with any type of paper. Very few students can write high-quality papers like our writers do. If you have postponed your paper and the deadline is quickly approaching, leave it to us.
Our service offers various writing services and can help you with any paper type and complexity level. If you need help with your thesis or dissertation, just ask our writer, "write my dissertation." They can help you with research, literary analysis, and any dissertation chapter on your demand.
See how fast we will complete your order. Your writing problem will be solved by a professional writer.